PRESSED HEAD WING SCREWS (Code:CPWS)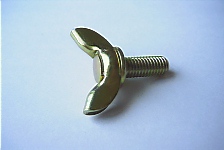 TO JAPANESE PAGE


(Material)
Head...SPCD(Finished Steel Hoop) Bolt...SWRM(Mild Steel)

(Sizes)
ISO M4 to M12
ANSI #6 to 3/8"



(Speciality)

Wing and bolt are solidly fixed by riveting. Convexly bent wing is free from water-puddle which causes corrosion. Clamping torque is strong.

With finished steel hoop is used as material for wing, weight is lighter than Cold Forged Wing Cold Forged Wing Screws (CFWS).

As wing of finished steel hoop is convexly bent, wing-root is strong enough, and is never broken.

Wing is well-shaped and very little finger-ache is felt at fastening work.

With smooth surface, surface treatment is easy for beautiful finish.



(Use)
Widely used for same fields as of Cold Forged Wing Screws (CFWS).


Return to O.P.G Products

Return to O.P.G HOME PAGE