COLD FORGED WING SCREWS(Code:CFWS)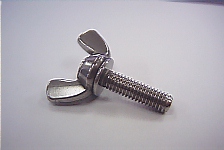 TO JAPANESE PAGE


(Material)
Head...SWRM(Mild Steel) Bolt...SWRM(Mild Steel)

(Sizes)
ISO M4 to M12
ANSI #6 to 3/8"



(Speciality)

Mild steel wing and bolt are strongly fixed by riveting and clamping torque has been greatly increased, which is equal to thread-breaking torque of bolt.

Beautiful Appearance: With massive and beautiful appearance, it helps your products to increase sense of profoundness and security.

Clamping torque is strong, and has maximum resistance against high temperature.

Decrease of finger-ache feeling: With wide and smooth finger-pressing section of wing, a worker feels no pain in the finger.



(Use)
Ideal for use in the places where strong torque or frequent fastening and removal is required;Vehicles, farm-machines, civil engineering machinery, furniture, office-machines, medical appliances, etc.


Return to O.P.G Products

Return to O.P.G HOME PAGE