STAMPED WING NUTS (Code:WN)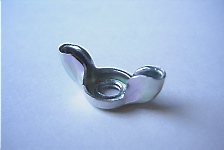 TO JAPANESE@PAGE


(Material)
SPCD (Finished Steel Hoop)

(Sizes)
ISO M3 to M8
ANSI #6 to 3/8"



(Speciality)

Superseding old manufacturing method, this item is now formed by one stroke with press-machine with precise metal mold.

By volume-production, manufacturing cost is reduced and quality equalized.

Made of finished steel hoop, nuts are light in weight, and surface-treatment is easy for beautiful finish.

Wing is strong enough and is never cracked.

Designed for self-locking effect in the bearing surface.



(Reference)
Torquing test by Osaka Prefecture Industrial Research Institute reported;#6(M3)..12kgs/cm #8(M4)..20kgs/cm #10(M5)..32kgs/cm 1/4"(M6)..54kgs/cm 5/16(M8)..182kgs/cm

(Use)
Ideal for the products which must be light in weight and do not need frequent fastening and removal;TV-antenna,and other light electrical appliances, wooden furniture, etc.


Return to O.P.G Products

Return to O.P.G HOME PAGE